Ben Pimlott Building scribble
Ben Pimlott Building
360 Panorama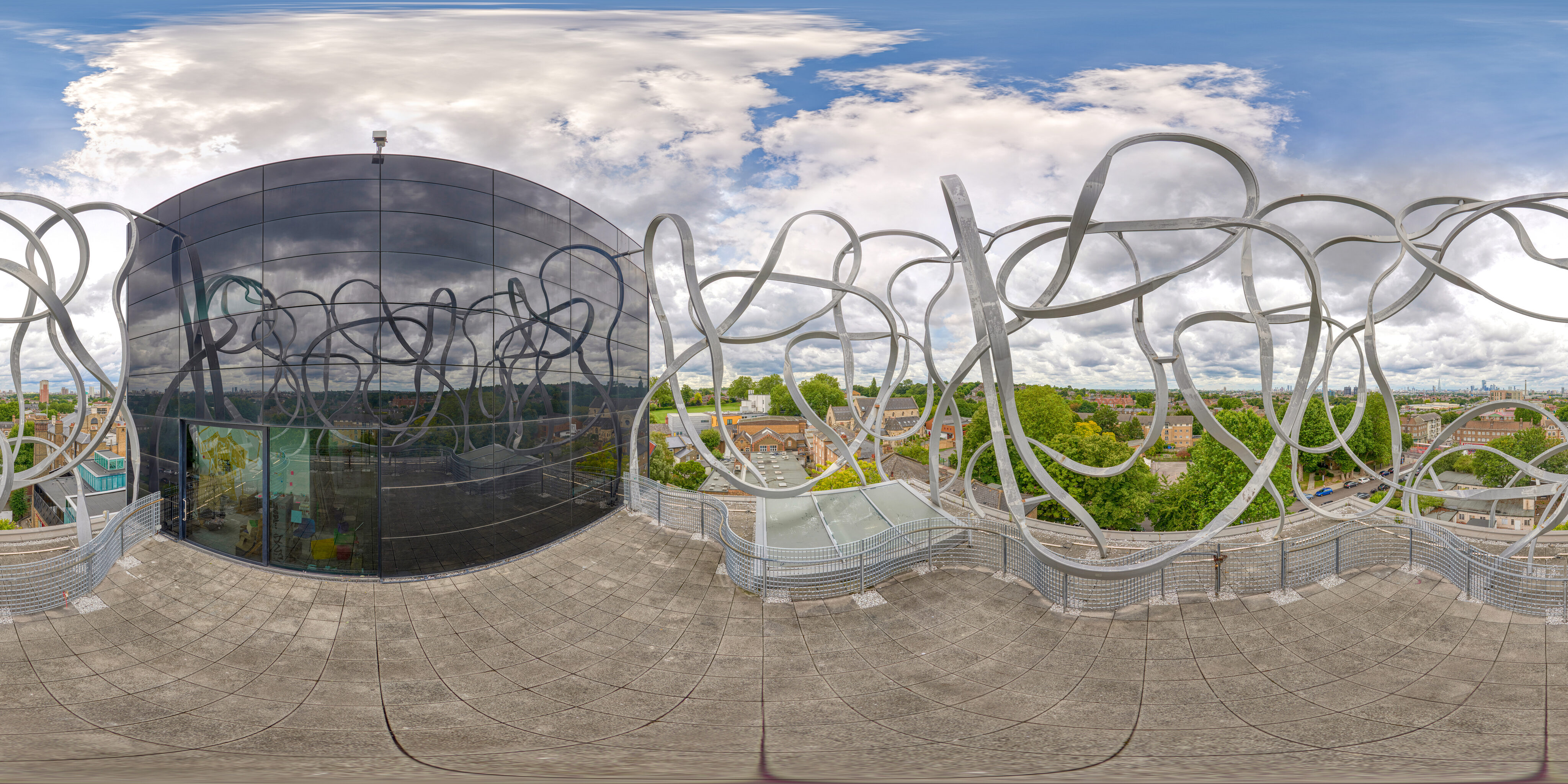 About Ben Pimlott Building scribble
On the fifth floor of the Ben Pimlott Building you'll find a terrace with fantastic views across London. This terrace features a sculptural 'scribble' that can be seen for miles around, and has become a distinctive feature of the New Cross skyline.
The spaghetti-like scribble (sometimes called the squiggle) was designed by award-winning architect Will Alsop. Nine metres high and made up of 229 pieces of steel, it would be 533 metres long if outstretched – higher than The Shard, the Eiffel Tower and the Empire State Building.
The sculpture is sometimes seen as a metaphor for Goldsmiths itself: dynamic, iconic, and a little bit chaotic. It tips over the building's edges, hinting at the boundary pushing that students, staff and alumni are known for.
The scribble is visible from around campus, and at certain points in the year – most notably, during the Goldsmiths degree shows – you'll be able to access the terrace and see it up close, providing a fantastic photo opportunity (especially if the sun is shining).
Ben Pimlott Building
The Ben Pimlott Building itself features teaching and studio space for students in the Department of Art, as well as facilities and research space for the Departments of Computing, Design and Psychology. During the summer the doors open for our degree shows, where you can explore the work of final-year students, and wander around the inspiring exhibition spaces.
Just behind the building you'll find a garden and yurt – a great place to spend some tranquil moments on campus.
Discover more about Goldsmiths
Come to an Open Day
Have you enjoyed your Virtual Tour of Goldsmiths? Then why not visit us in person at one of our Open Days.
Chat to us
If you have a question about Goldsmiths chat to us for further support and information.
Our courses
We offer a range of courses across all study levels and a variety of subject areas.