Kingsway Corridor
Richard Hoggart Building
About Kingsway Corridor
The light-filled Kingsway Corridor is how you'll get to some of the teaching spaces at the back of the Richard Hoggart Building, but it's also where a host of thought-provoking exhibitions take place throughout the year.
This particular exhibition is called 'Weaving Archives', and explores the complexities of hair as both a material entangled in systematic, gendered and racialised oppression, but also a site for Black feminist expressions of radical love, joy and kinship. It was co-curated by Rambisayi Marufu, Professor Emma Tarlo (Department of Anthropology) and artist Farrah Riley Gray.
Other recent exhibitions have included 'Windrush: Arrival 1948' – which recreated the landing cards destroyed by the Home Office in 2010, and shed light on the untold stories of some of the vessel's passengers – and 'Golddream', a showcase of psychedelic gig posters and stories from London Students' Unions of the 1960s and 1970s.
Exhibitions like these form part of Goldsmiths' vibrant events programme.
Gallery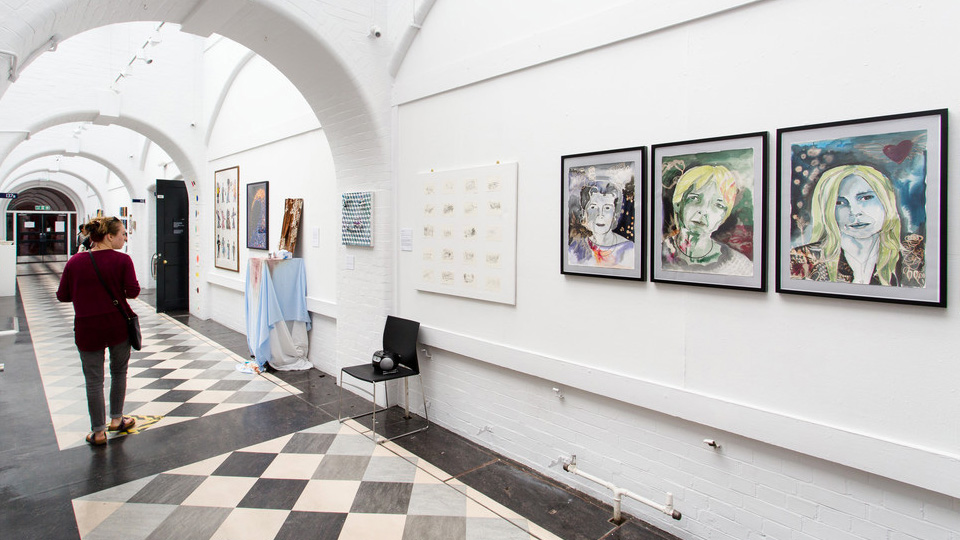 Discover more about Goldsmiths
Come to an Open Day
Have you enjoyed your Virtual Tour of Goldsmiths? Then why not visit us in person at one of our Open Days.
Chat to us
If you have a question about Goldsmiths chat to us for further support and information.
Our courses
We offer a range of courses across all study levels and a variety of subject areas.