Laurie Grove Baths
Laurie Grove
About Laurie Grove Baths
Located near New Cross Road, Laurie Grove Baths is a Grade II listed (protected) building with a fascinating history. The 'Baths' as they are more commonly known, house some of our art studios, and are an important part of Goldsmiths' Art programmes. Its impressive light-filled spaces are now used as one of the exhibition spaces for the Goldsmiths annual degree shows.
Laurie Grove Baths was the first significant public building project in Deptford under the development of local government. Designed by local architect Thomas Dinwiddy at the end of the 19th century, the swimming pool and wash house were a vital resource for the community at a time when many poor people did not have bathrooms in their homes. As well as improving public hygiene and health, the building was used for all kinds of entertainment and meetings, from dances and concerts, to political meetings and wrestling matches. You can find out more about the buildings' rich history by reading the Goldsmiths History Project blog.
Goldsmiths acquired the building in 1999 and converted it into studios and teaching rooms. Many of its original features can still be seen throughout the building.
Gallery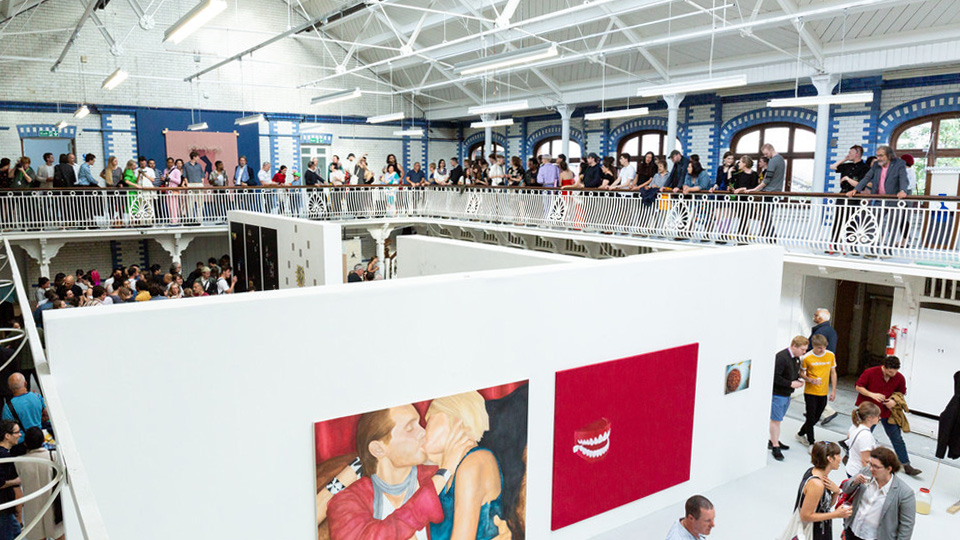 Discover more about Goldsmiths
Come to an Open Day
Have you enjoyed your Virtual Tour of Goldsmiths? Then why not visit us in person at one of our Open Days.
Chat to us
If you have a question about Goldsmiths chat to us for further support and information.
Our courses
We offer a range of courses across all study levels and a variety of subject areas.