Communal area in the Professor Stuart Hall Building
Professor Stuart Hall Building
About Communal area in the Professor Stuart Hall Building
Large open-plan space with heaps of natural light from windows stretching over three floors, the Professor Stuart Hall Building is an impressive place. There is lots of comfortable seating from where you can take in the views across the College Green, making it a great choice for somewhere to spend time between lectures.
The lower-ground floor atrium is frequently used for events, such as book launches, and much of the building is taken over every year for the Media and Communications degree shows.
The ground floor of the atrium is home to our vegan cafe, which sells hot and cold food and drinks including HEJ coffee. Many students choose this as their favourite spot to catch up with friends or work.
On display on the first floor you can see a perfectly preserved reel-to-reel editing machine. However, the equipment in the edit suites, radio recording studios and animation workshops on this floor is far more state-of-the-art.
This is the newest of our academic buildings, and it was named after the prominent sociologist Stuart Hall. It is home to the Department of Media, Communications and Cultural Studies, the Institute of Management Studies (IMS), and the Institute for Creative and Cultural Entrepreneurship (ICCE), as well as two of our biggest lecture theatres.
Eating and Drinking
To find out more about Goldsmiths' cafes, visit the eating and drinking on campus page.
Gallery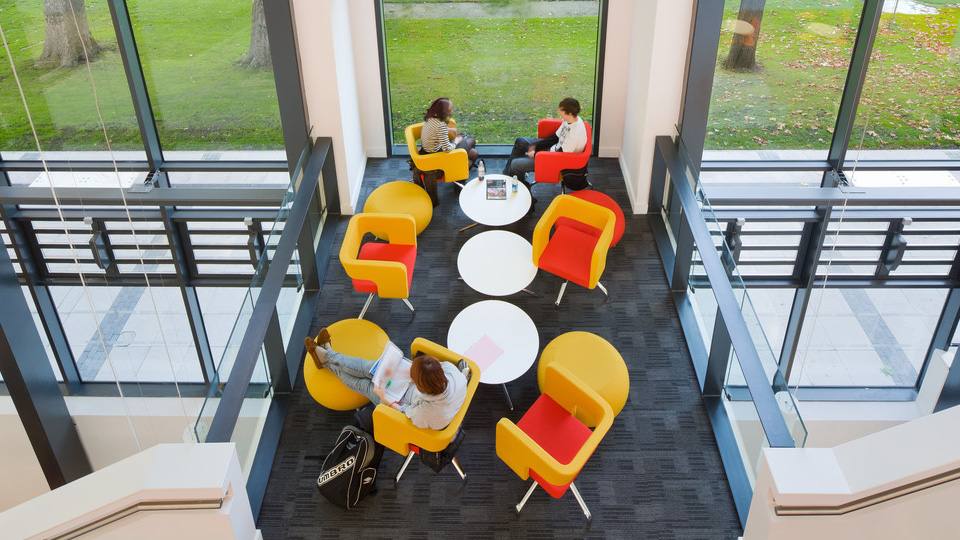 Discover more about Goldsmiths
Come to an Open Day
Have you enjoyed your Virtual Tour of Goldsmiths? Then why not visit us in person at one of our Open Days.
Chat to us
If you have a question about Goldsmiths chat to us for further support and information.
Our courses
We offer a range of courses across all study levels and a variety of subject areas.