Deptford Town Hall Building reception
Deptford Town Hall Building
360 Panorama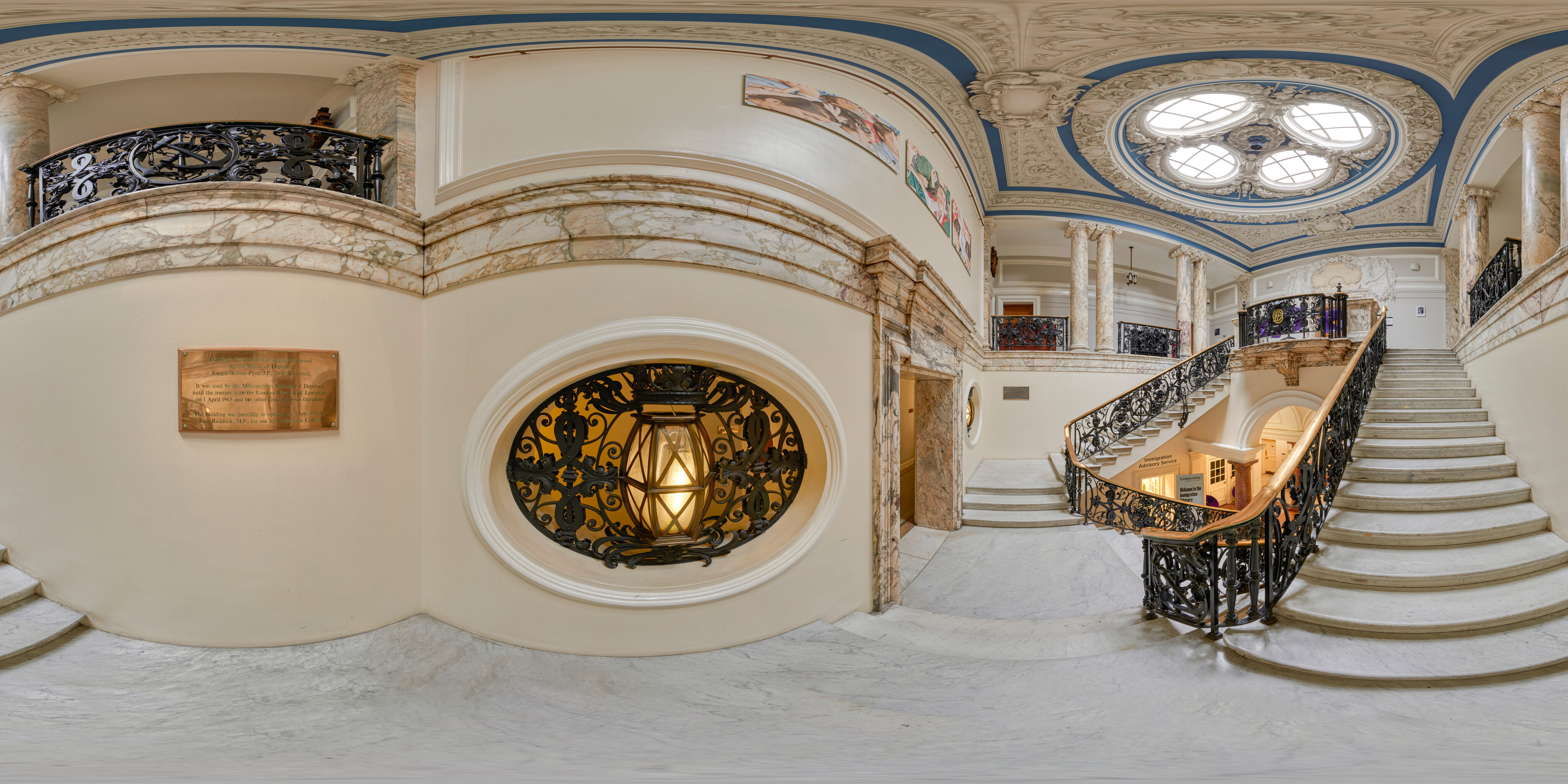 About Deptford Town Hall Building reception
You'll find this building on New Cross Road, and, as the name suggests it was once the town hall for the former Metropolitan Borough of Deptford. The Baroque-style building was acquired by Goldsmiths in the late 1990s, and is now home to teaching space, offices, the Constance Howard Gallery and Goldsmiths Textile Collection and a large Council Chamber, which is used for things like mock trials for students in the Department of Law, and music recitals and other performances.
Immigration Advisory Service
On the ground floor, next to the impressive marble staircase, is the Immigration Advisory Service (IAS). The IAS provides guidance and advice to all new and current international students, from help with applying for your visa to study with us, through to advice about working during or after your studies. You can contact the IAS team with any questions you may have before you arrive, and when you're a student.
Statues and iconography
One of three Grade-II listed buildings on campus (along with the Richard Hoggart Building and Laurie Grove Baths), some of the Deptford Town Hall Building's iconography – including statues representing naval figures associated with slavery and empire – is contentious today, and raises difficult questions about how to deal with historic celebrations of those who wielded imperial power, subjugating other nations and enslaving their people. You can find out more about the history and context of these statues – and about a community consultation to help decide their future – on our website.
Discover more about Goldsmiths
Come to an Open Day
Have you enjoyed your Virtual Tour of Goldsmiths? Then why not visit us in person at one of our Open Days.
Chat to us
If you have a question about Goldsmiths chat to us for further support and information.
Our courses
We offer a range of courses across all study levels and a variety of subject areas.